Lorron James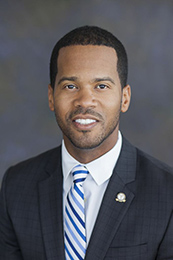 Board Member, Detroit RiverFront Conservancy
Vice President, James Group International
President, Magnolia Automotive & TLX
Lorron James graduated from Arizona State University in 2005 and worked with the Arizona Diamondbacks baseball team as the Community Affairs Coordinator, before deciding to move back to Detroit to learn the family business, James Group International (JGI). Renaissance Global Logistics (RGL), a subsidiary of JGI, runs the global consolidation export operation for Ford Motor Company, which ships to 16 countries across the world. JGI also has multimodal capabilities for its customers and handles other logistics services for General Motors.
After his tenure as the Marketing/Sales Manager, Lorron moved into a Business Development role which enabled him to reach out to different customers outside of the automotive industry. In addition to his new role, Lorron obtained a Master's in Science Administration (MSA) degree from CentralMichiganUniversity in 2008. Soon after, he moved into the role of Director of Supply Chain Management, where he assumed responsibility over the RGL operation and business development team.
Today, Lorron James serves on the Board of Advisors and handles everything External Affairs for James Group International. He's also President of Magnolia Automotive Services (Toyota JV in Mississippi) and is President of TLX (Supply Chain Management IT Software). He continues to make strides into diversifying his customer base, while retaining and growing his relationships with Ford, General Motors, Toyota and other OEM's/Government Primes. He's also active in the revitalization of Detroit as an intermodal distribution hub to the world.
Lorron's community involvement includes serving as Co-Chair on the Children's Hospital Foundation – Leaders for Kids Board. He has also been chosen to serve on the Youth of the Year Selection Committee, which benefits the Boys & Girls Club of Southeast Michigan. He also mentors a high school student from the Pontiac based Grace Centers of Hope Program. Lorron is a graduate of the Leadership Detroit XXXI class through the Detroit Regional Chamber and also served as the President of the Intermediate Council at the Detroit Athletic Club (DAC) in 2011. Benefitting the DAC Foundation, he's also on the Michigan High School/College Athlete of the Year Selection Committee. Lorron is a part of Riviere XXVIII which is an extension of the Detroit RiverFront Conservancy and he was also appointed to the Detroit Wayne County Port Authority Board by Mayor Mike Duggan. Another appointed position includes being on the Michigan Minority Supplier Development Council (MMSDC) board, which was decided on by his automotive peers.