Mariam C. Noland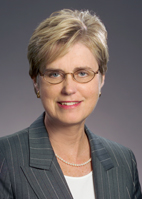 Board Member, Detroit RiverFront Conservancy
President, Community Foundation for Southeast Michigan
Noland became the first president of the Community Foundation for Southeast Michigan in 1985. Established in late 1984, the Community Foundation serves a diverse seven-county region of over 4 million people. Since its founding, the Foundation has made over 33,000 grants totaling over $360 million. Assets total over $500 million held in over 900 funds. The Foundation is governed by a 56-member board of civic leaders and is assisted by 100 volunteer advisors.
She joined the staff of the Cleveland Foundation in 1975 where she served as program officer and secretary/treasurer. In 1981, she became vice president of the Saint Paul Foundation, Saint Paul, Minnesota. Prior to her work in the foundation field, Noland was on staff at Davidson College, Davidson, North Carolina, and Baldwin-Wallace College, Berea, Ohio.
Noland obtained her Ed.M. from Harvard University and a Bachelor of Science from Case Western Reserve University. Noland is currently a member of the board of trustees of the John S. and James L. Knight Foundation, Henry Ford Health System and Independent Sector. She has served as chair, board of trustees, Council of Michigan Foundations; a vice chair, board of trustees of the national Council on Foundations and is currently a vice chair, board of trustees of Henry Ford Health System.