Customize your Conservancy Gear with My Locker!


MyLocker Virtual Storefront - Looking for a way to stay warm/cool, pack a lunch, carry groceries, or pack for a picnic all while showing your support of the Conservancy? Look no further! Visit MyLocker's virtual storefront where you can choose any item and have it branded with the DRFC logo. The best part? 15% of your purchase comes back as a donation!
Riverfront greeting cards now on sale!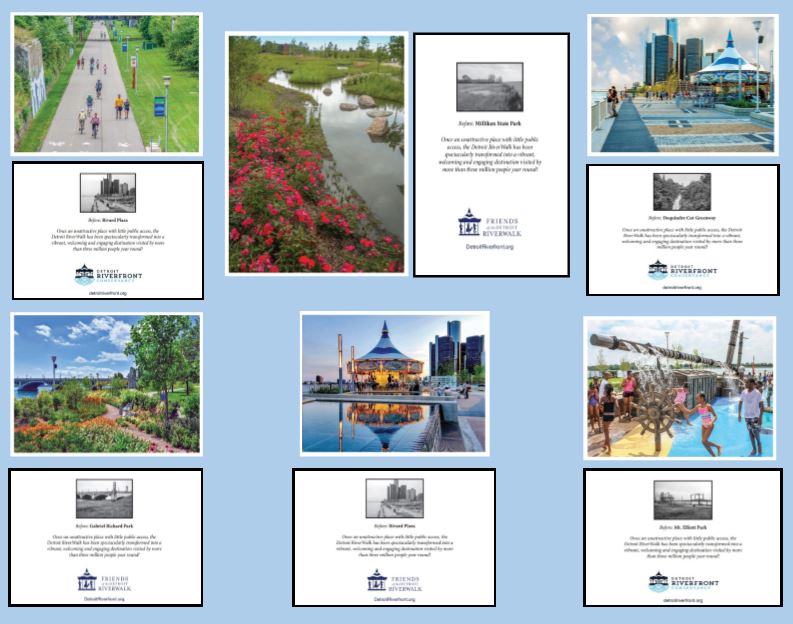 These greeting cards celebrate Detroit's riverfront, and remind your friends and family how far it has come over the last 13 years! The front of each card is an image of a beautifully transformed place along the riverfront, and the back contains the original condition of the space. 
Cards come in packs of 6 (one of each card displayed on the right) and are blank inside.  Each package of 6 costs $10 and includes:
6 Greeting Cards
6 Envelopes
Shipping & Handling Fee
Proceeds benefit the mission and programs of the Detroit RiverFront Conservancy.
*Special orders of larger quantities may be made by contacting Kate Andrecovich at kate.andrecovich@detroitriverfront.org or (313) 566-8248.